When it comes to Christmas trees, going the artificial route is increasingly becoming the popular choice. And why wouldn't it? With the latest designs and genuine craftsmanship that makes these elegant centerpieces nearly indistinguishable from the real thing, there's some other major advantages to artificial Christmas trees. Most notably, you don't have to spend extra time watering your trees daily and of course, cleaning up the vacuum clogging bristles that are still found under rugs and in corners until the following Christmas season. But which artificial trees top the list? We've narrowed it down to simplify your search for the perfect option based on your space, and your taste.
7.5' King Flock Pre-Lit Christmas Tree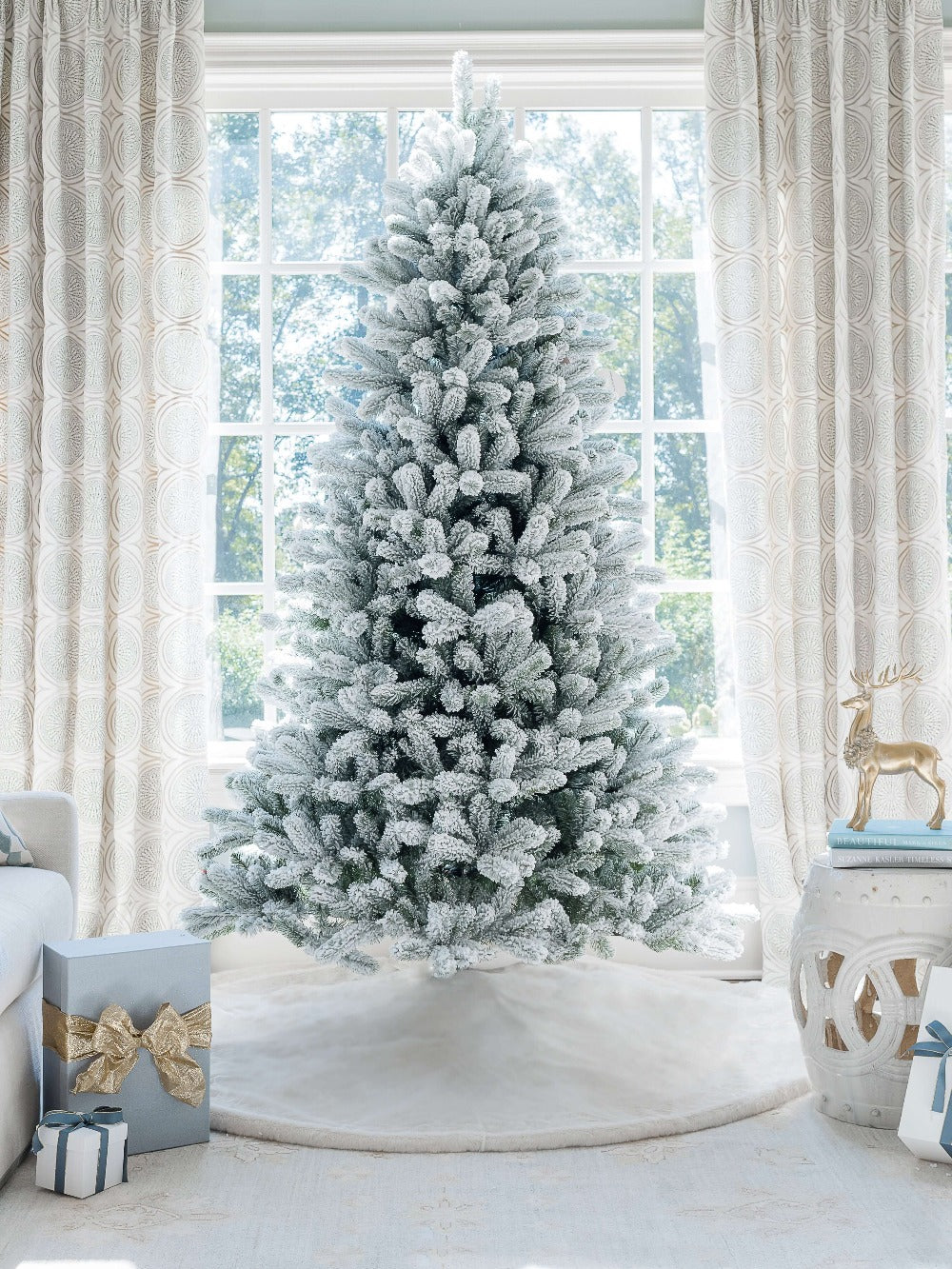 If you're simply looking for the best of the best, then look no further than our signature 7.5' King Flock Pre-Lit Christmas Tree. This bestseller offers an elegant design with the appearance of a fresh coat of snow, ensuring a winter wonderland in the warmth of your own home. It's a customer favorite season after season and is responsible for some of the most magical Christmas settings across the globe.
7.5' Queen Flock Slim Pre-Lit Christmas Tree
Sometimes space is limited. Then there's the 7.5' Queen Flock Slim Pre-Lit Christmas Tree. With the same unmatched quality in a much slimmer profile, this is the tree that fits nearly anywhere…and looks amazing while doing so. The magic of a snowy, Christmas day can't always be guaranteed outside, but this tree offers the same feeling anywhere you choose.
7.5' King Flock Pre-Lit Christmas Tree
7' King Noble Fir Pre-Lit Christmas Tree
Ready to give that ornament collection the attention it deserves? There's a tree for that. The 7' King Noble Fir Pre-Lit Christmas Tree features a unique, minimalistic design that is supported by a strong metal core, ensuring your biggest and brightest ornaments are proudly displayed at all times. A natural conversation starter, there's simply nothing else like the King Noble Fir.
Can't decide between a sparse tree and a full tree? Blend the best of both worlds, with the 7.5' Rushmore Pre-Lit Christmas Tree. This bold beauty demands attention from all in its presence, with a distinguished design that stands out by offering a layered look that presents just the right amount of spacing to highlight your ornaments.
Finally, you'll certainly enjoy the unmatched value in our 7' Prince Flock Pre-Lit Christmas Tree. Just like the King and Queen, this signature tree brings a majestic holiday vibe to any space and offers an affordable entry point into the world of premium artificial Christmas trees. Heavily flocked and perfectly sized, this tree is always a safe bet if you're having trouble making a decision.
No matter which tree you choose this season, you can't go wrong with a high-quality, hand-crafted centerpiece from King of Christmas. For added peace of mind, two-year warranties and fast, free shipping come with every purchase…so you can spend more time making memories with your loved ones and less time worrying about making the right purchase.
With unrivaled durability, convenient shaping, and exceptional customer service, starting a new family tradition is easier than ever.